PLASTIQUE FANTASTIQUE
A journey through an ephemeral realm
Marco Canevacci and Yena Young

This extensive monograph, published by DCV, showcases for the first time a selection of projects from the past two decades. The catalogue features texts by Lidia Gasperoni, Mateo Feijóo, Daniel Felgendreher, and the authors.

In the wake of Frank Lloyd Wright's pioneering work, visionary architects including Frei Otto and Buckminster Fuller established bubbles as a recognized artistic and architectonic form. The Berlin-based art duo Plastique Fantastique (Marco Canevacci and Yena Young) go one step further and harness them as a medium of temporary social interactions. The philosopher Vilém Flusser conceived of space in the digital universe as a network of relational settings in which humans can be in multiple places at one, as a "bubble that extends into the future." Plastique Fantastique transform our urban and rural environments into laboratories for such spaces in which urgent social, political, and aesthetic questions are negotiated. Oversized translucent bubbles, traffic islands ringed by diaphanous tubes, giant lifebelts, air-filled sausages that the audience at a Peaches concert pass over their heads: Plastique Fantastique's installations fuse art, performance, people, and architecture in a multisensory experience that blurs the conventional boundaries of art and focuses our attention on the larger bubble in which human existence is contained. Richly illustrated with exceptional photographs, this monograph is the first to document a representative selection from the duo's projects of the past two decades.

DCV – Dr. Cantz'sche Verlagsgesellschaft, BERLIN
A special thanks to Martin Holz
www.dcv-books.com


TREES & TRACES
An (in)visible pavilion



TREES & TRACES
An (in)visible pavilion
___
Songhyeon Green Plaza / Songhyeon Dong, Seoul, Korea
SEOUL BIENNALE OF ARCHITECTURE AND URBANISM

In the heart of Seoul, right beside the historic Joseon Dynasty palace, an emblematic space emerges from the ground. The location of Songhyeon Dong carries a rich and varied history, with changing uses and owners over time. The (in)visible pavilion presents contrasting perspectives: reflecting on the outside, while revealing transparency within. It acts as a temporal connector, transcending the boundaries of time for the 4th Seoul Biennale of Architecture and Urbanism.
Inspired by the site's intricate history, the artists embarked on a quest to discover the relics hidden beneath the soil. During their April 2023 site visit, they unearthed several artifacts, now exhibited along the installation's earthen wall. An immersive soundscape echoes the long-vanished pine forest, once believed to channel energy towards the Gyeongbokgung palace.
TREES & TRACES engages visitors on multiple sensory levels, inviting them to explore and reflect on the complex history of the Songhyeon Green Plaza. The installation, both futuristic and archaic, blurs the boundaries between past and present, reality and imagination. This interplay of acoustic memories, visual perceptions, and tactile sensations weaves a captivating narrative that draws people into an immediate and enigmatic encounter with the site's heritage.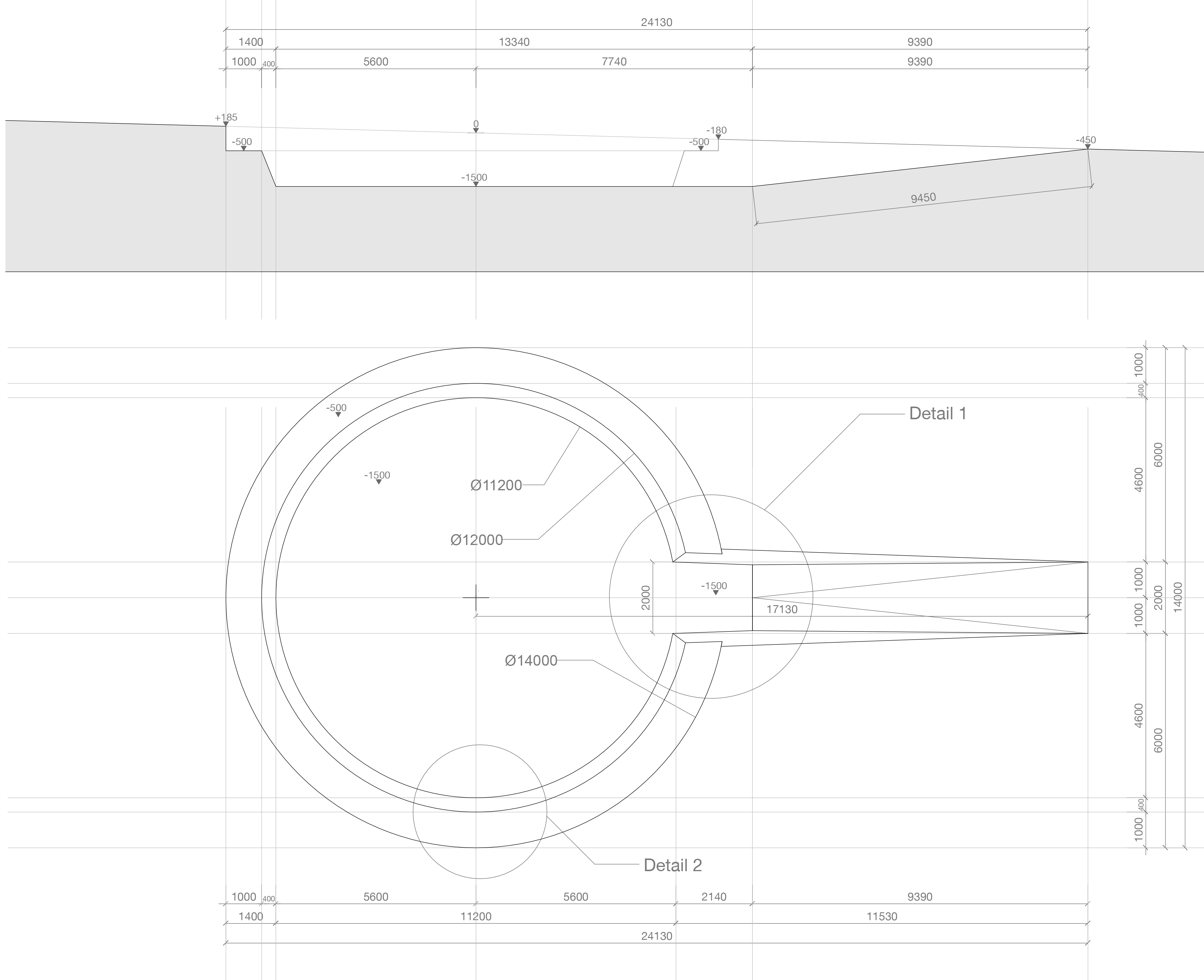 A Plastique Fantastique project, Marco Canevacci and Yena Young
Team: Pihla Pellinen, Sebastian Podesta, Lucas Sere Peltzer, Erick Montefort

Curator: Sara Kim
Assistant curator: Yong Jin Cho
Landscape architecture: Young-sung Jeon
Soundscape: Marco Barotti (assistant: Misha MacLaren)

Special thanks to: Anna Anderegg
Technical sponsor: ARRI Lighting Solutions

The 4th Seoul Biennale of Architecture and Urbanism
RINGdeLUXE - Paris



RINGdeLUXE is an in situ installation that surrounds the Passerelle Léopold-Sédar-Senghor footbridge in Paris on the occasion of Nuit Blanche 2023. This alliance connects the two shores as much as it evokes the inseparable relationship between the city, its river and the crossing inhabitant. The monumental structure awakens the personifications of the city, the Parisian allegories and the river, both divinities united during the night.

Artistic direction: Kitty Hartl
Production: Eva Albarran SARL
Direction of Cultural Affairs of the City of Paris

Many thanks to:
Tatiana Titli, Lola Majzels, Virginie Roques, Marie Gautier, Eric Fargnier, Frederic Peyrat / Ze-com

Music (video)
Artur Majewski (cornet) and Jan Słowiński (drums)
SŁOMA - Fifth - 2022

Editing (video)
Lucas Sere Peltzer


© Plastique Fantastique, RINGdeLUXE, - Nuit Blanche 2023, City of Paris, Paris, 2023

ΘΟΛΟΣ – THOLOS


ΘΟΛΟΣ – THOLOS
THOLOS - the circular dome in ancient Greece - has been reinterpreted in Plastique Fantastique's latest installation to achieve a metaphysical experience. The ripple of the columns creates a distorted image of the person looking at them, depending on the point of view and movement of the subject. A black sphere floats in the centre of the ensemble, challenging the perception of geometry and gravity.
Tholos questions the permanent materiality in our time and seeks to be temporary and ubiquitous.

Pop Air exhibition
Superstudio, Milan
December 23rd - February 12th 2023

Concept:
Plastique Fantastique
Marco Canevacci and Yena Young

Plastique Fantastique team:
Teresa Caputo
Xueqi Huangfu
Max Koeppel
Cora Röschlein

Special thanks:
The Balloon Museum Team




︎DOUBLE HEART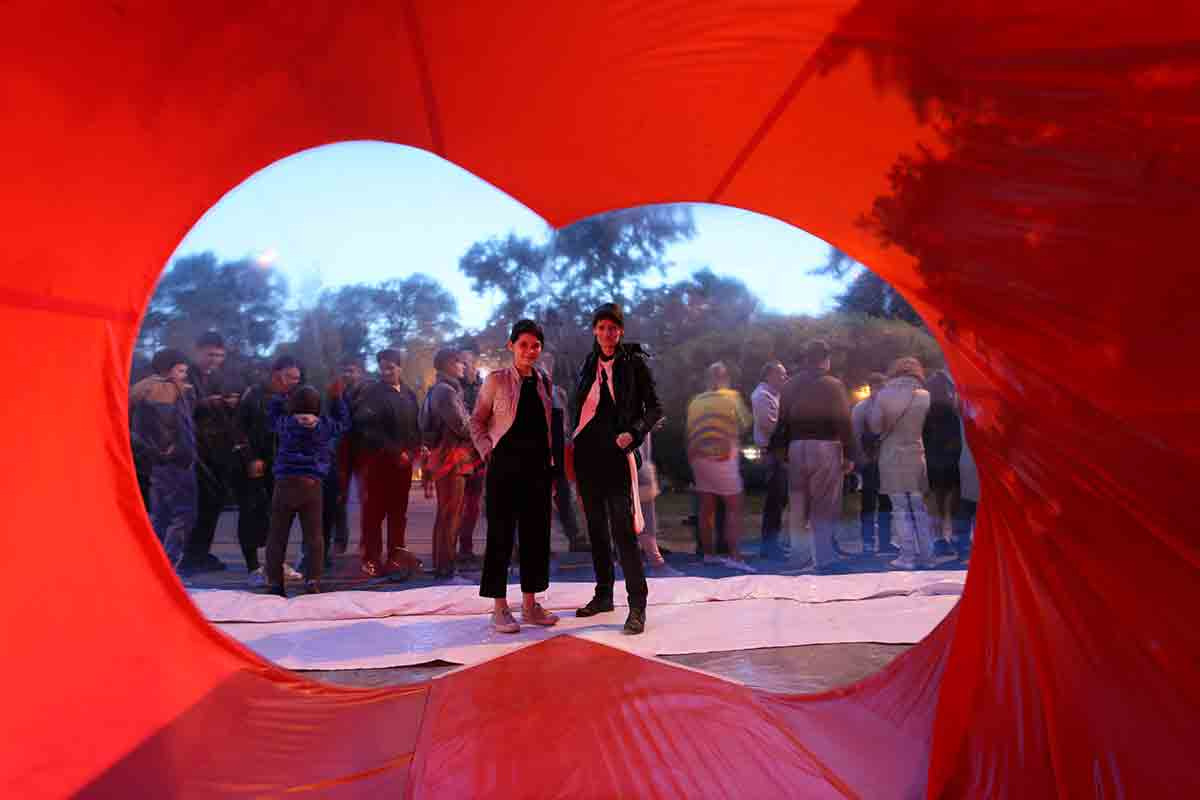 DOUBLE HEART
Gau Zuria / Nuit Blanche, Bilbao, Spain, 2023
Curator: Anna Pujol, The City of Bilbao

Lux Festival, Centro Cultural La Térmica, Malaga, Spain, 2023
Curator: Mateo Feijoo
Design Week Novi Sad, Novi Sad, Serbia, 2022
Curator: Dajana Vujaklija
Love Exhibition, Digital Art Festival Taipei, Taiwan, 2020
Curator: Yenyi Lee
Polytech Festival, Moscow, Russia, 2017
Curator: Anna Titovets Intektra

Double Heart is a pneumatic sound sculpture which collects the heartbeats of random people and transforms them into a collective soundscape. Two visitors sit inside the sculpture, their pulse is measured, processed and amplified, revealing the endless variability of these rhythmic patterns. The beats are transmitted in real time by a sound system that can also be heard by the audience outside the installation.
The installation absorbs frequencies of human bodies and searches for possible compatibility between strangers and beloved, questioning the match as atonal repulsion or natural attraction.

Double Heart is a project that is constantly evolving and has already been exhibited at different occasions. The initial project has been developed together with the media artist Marco Barotti on the occasion of the Red never follows Exhibition, Saatchi Gallery, London: many thanks for his support.

Concept:
Plastique Fantastique

Plastique Fantastique assistants:
Cora Röschlein, Pihla Pellinen, Sebastian Podesta

Audio and programming assistants:
Markus Wüste, Misha Douglas MacLaren

Special thanks ︎:
Marco Barotti

Special thanks ︎︎:
Senka Radovic, Ksenia Lukina, Dmitry Sokolov, Jens Rösler (Goethe-Institut Taipei), Tsung-Han (DingZing advanced materials), Martín Moniche Ferrer, Luis Díaz González.