"Zero on See", Today's Art, The Pier in Scheveningen

The banana shaped inflatable tube is squeezed between the beams and stairs of the terrace of the round structure at the Pier in Scheveningen. The current entrance toward the terrace could be modified into an airlock to enter the pneumatic structure. To conclude with, the bubble could become a viewpoint, at the curved seafront, to host a number of events.





Mini Gagarins

Bubbles are installed in the Museum of Arts and Science in Valencia. Transparent, translucent and opaque colours are playfully mixed and patterns are experimented. Through the transparent openings, visitors explore new shapes and perspectives while crossing the space between the bubbles.





"4 + 4 Days in Motion" Festival, Prague

Solid, concrete mass.
At first we explore the voids in the organism of the building.
Secondly we find a concept, a fun and playful way to experiment with the story that is already narrated by the form and the program of the building.
Then we install structures that invite the visitors to explore new forms of interaction.

In the building there are different programmatic sections. We connect two floors of the building through the windows. In that way the window becomes an opening to another floor instead to the public space. In the ground floor, a pneumatic structure, that reacts to the presence of the visitors, is being installed.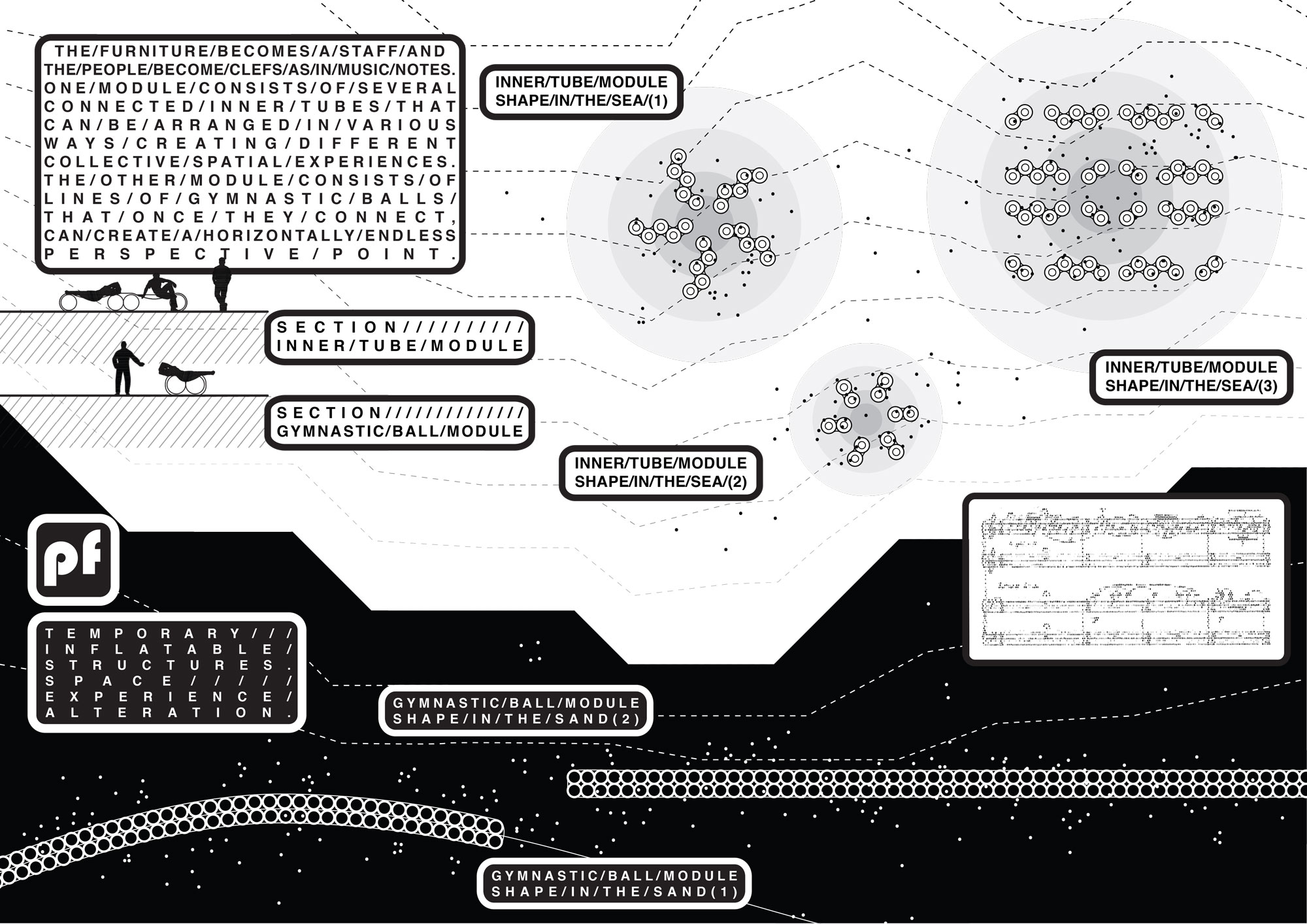 IgorLounge

The furniture becomes a staff and people become clefs as in music notes. Modules can be installed, removed, and replaced in a very short time in various places such as a river, a train station, a hill or a viewpoint of the city.




Breathing Volume

Upon entering the public will be embraced between breathing walls constantly changing their physical volume, for approximately 5 minutes, creating a perception of being inside a living organism.



Kubrick

It is an idea of a space that consists of a single route and plays with the visitors' senses. There are one entrance and an exit, which are connected through a circular path. In the beginning of the path, a sound installation is welcoming the visitors. While entering deeper, people can touch different haptic of textiles, smell an installation with applied scents on it, see a rainbow coloured corridor, and finally taste a bubble full of different tastes. The idea is to activate the senses walking through the inflatable structure.